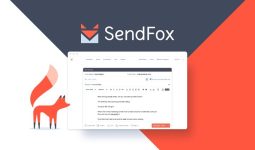 SendFox – Send customized emails to your subscribers, followers, and fans
What is this SendFox Deal?
SendFox is an email marketing tool that allows you to send customized emails to your subscribers, customers fans/followers. All from one place. Sendfox allows you to segment user types based on a variety of factors.
These are some of the things you can do with SendFox: 
Send unlimited scheduled and automated emails to your contacts
Create custom, branded emails, landing pages, and built-in forms
Integrate with dozens of your favorite tools like – Sumo.com, KingSumo, Zapier, API, and more
Best for: Content creators like bloggers, podcasters, and vloggers who want to turn fans into customers
What do you get in this deal?
Lifetime access to SendFox
No codes, no stacking — just choose the plan that's right for you
You must activate your license within 60 days of purchase
All future Lifetime plan updates
Choose from 5 license tiers
GDPR Compliant (Partner Verified)
Remove branding and access bonus features for $10 per month with Empire Add-On
60-day money back guarantee, no matter the reason
Do you have to be an experience setting up the dashboard?
You can be a novice and still be able to setup the basic email list. The software has a wizard like step by step list creation and onboarding process that teaches you how to use the product in less than 10 minutes. If you're an entrepreneur who doesn't have time to set this up, we could set it up for you as well. Just write to [email protected] after you purchase the product from this link: https://appsumo.8odi.net/XQAMX
What are the Minimum requirements for sendfox?
Just a browser and a website (optional) to place a signup form to collect user's email id. Besides that, nothing much. Yes, some amount of your time.
What does SendFox tell us about their product?
Ok, so you've created great content for your blog, YouTube channel, or podcast and have gained a solid following.
But now what?
How can you turn your followers and subscribers into customers and keep them up-to-date on exciting news and projects?
Email marketing is expensive—especially for content creators without the budget of a big company (It's an email, what could it cost, $10? – Lucille Bluth).
With SendFox, you can create, schedule, and automate unlimited customized emails, without breaking the bank.
Specifically for content creators, SendFox is taking a different approach to product features (see: SendFox is not AWeber, Mailchimp, etc. and will not have 100% feature parity).
20,000+ customers use SendFox to send millions of emails and measure their results every month — including content creator Ryan Holiday, YouTuber muchelleb, and podcaster Noah Kagan.
SendFox combines automation and customization to help you create simple, beautiful, and effective emails in less time.
Automatically draft emails with SendFox's integrated weekly Smart Campaigns and RSS content updates, so your fans will get your best content directly in their inbox.
This feature is great for podcasters, bloggers, and YouTubers who regularly release new content and helps you keep eager followers happy.
As a content creator, your brand is *everything*.
Use the simple WSYWIG editor to customize the font, colors, formatting, and links in your emails to make sure you're always #onbrand.
Don't have a full email marketing plan (or a plan at all)? No problem.
Create custom, branded Smart Pages and landing pages to promote on your social bios or in your email signature to get your name and content out there (rate, review, and subscribe!).
Smart Pages show off your best content from YouTube, podcast, social media, and more, making it crazy simple for followers to see all your content in one place.
Already have a subscriber base?
Easily upload your list of existing contacts and subscribers to SendFox and start creating and sending emails in minutes.
Use SendFox to turn followers into loyal fans and leads into customers.
Once you have email subscribers, use automation templates to create an automated welcome email program to push people to popular content and drive subscriptions to your channels.
If you want to send a series of emails based on clicks and opens, you can do that, too!
With SendFox's built-in scheduling and automation capabilities, just set it up and let it run.
Using a simple, clean email interface you can see all your emails, automations, contacts, and high-level performance numbers and details at a glance.
You create great content, let SendFox do the rest.
Designed specifically for content creators, SendFox helps you cover all the important marketing bases from forms and CRM to email campaigns and integrations.
Build simple, branded emails and landing pages to grow your business and easily track performance all in one easy-to-use platform.
Get access to SendFox today!