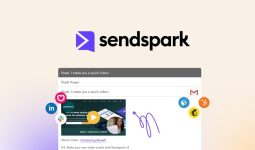 SendSpark – Custom Video Email marketing Tool
What is Sendspark?
SendSpark is a custom video email marketing tool that you can use to reach out to your customers in a more organized way. Research has it that emails with a personal touch can drive your sales by a significant percentage. (P.S: Depends on the content you send out. 🙂 ) . With Sendspark you get to take advantage of their marketing tool to create a genuine connection with your user. I'll let the guys at appsumo tell you what the product is about.
Email is one of the best ways to reach customers—for you and every other business.
With some customers receiving more than 100 emails a day, you've got to find a way to cut through the noise. (And you're starting to run out of well-placed Schitt's Creek GIFs.)
Stand out in the inbox with a personalized video email solution that helps you build genuine connections with your audience.
Introducing Sendspark, your email wingman.
What can you do with SendSpark?
Make personalized video emails from your browser by recording yourself or your screen
Alternative to: Vidyard and Loom
Collaborate with your team members and clients in shared video workspaces
Best for: Email marketers, sales teams, and agencies who want a personalized way to build relationships with clients
Sendspark helps you stand out in the inbox with video emails for smarter outreach and clearer communication.
Sendspark makes it easy to create killer email video content that will capture the attention of your leads and encourage them to respond or convert.
With the Sendspark Chrome extension, new videos are just one click away with the ability to record videos right from the browser.
Create quick videos of any kind on the fly for customers: introduce yourself, follow up on a conversation, answer questions, showcase your product, or create instant tutorials.
You'll be able to record yourself, your screen, or your face as a floating bubble over your screen (magic!) to make personalized videos at scale.
After you record your personal video message in Chrome, you can add personalization and branding to make the experience more attention-grabbing.
Create custom video share pages with your logo, branding, and calls-to-action to lead viewers to the next step in the buyer's journey or sales process.
You can also share the video in a regular email or message to add a personalized touch that gets you noticed in your customers' inboxes.
It's all in the little details. (At least that's what every kitchen backsplash on HGTV will have you believe.)
Personalize video thumbnails for your recipients with their name and logo right on the video, so they'll know you made that content just for them.
You can use these personalized videos for account-based marketing, sales, and onboarding to book more calls and retain more customers.
You won't be going this alone either. (Or getting dizzy switching between Slack chats and emails.)
Sendspark lets you enjoy collaborative workspaces with your team or clients to create awesome videos for prospective customers.
If you're working for a marketing agency that uses Sendspark to help clients grow its business, you can even manage videos on behalf of your clients.
Getting video content from others—especially if they aren't tech-savvy—can often feel impossible. (Mission: Video Testimonials)
Sendspark makes it easy to request videos from customers that they can record and upload without installing anything.
You'll also be able to collect videos from team members for emails, getting the whole company involved with outreach and engagement.
Lastly, Sendspark lets you gather video content from your marketing clients to send video emails on their behalf—perfect for agencies needing video for sales, onboarding, tutorials, and more.
It's time to leave boring email and lead nurture tactics behind in 2020 (along with cardboard cutouts at professional sports games).
Sendspark makes it easy for you to stand out in your customer's inbox with video emails that offer a personalized touch.
Let's make real human connections with your audience.
NEW: No codes, no stacking—just choose the plan that's right for you!
Plans & Pricing
For the latest plans and pricing, please check here: https://appsumo.8odi.net/P23ez