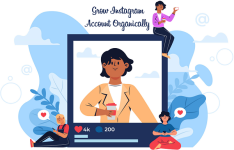 Instagram Marketing 2021: Complete Guide To Instagram Growth
By the end of the Course, you'll learn to:
Have a powerful Instagram account setup for your Business or personal that you can build your brand and convert your followers into paying customers.
Convert your new Instagram followers to long-term loyal paying customers who love your business!
We are up to date with all the new Instagram features and will guide you step by step on how to utilise these functions to grow your account and market your business.
Attract 10,000 real targeted followers to your Instagram account!
What sets this apart from other Instagram management & marketing courses is that by the end of this course – you will know all the strategies for you to grow your followers
Requirement
You should download Instagram onto a mobile device.
How to grow your Instagram business / personal account?
This course will walkthrough everything there is about growing your Instagram account helping you build a loyal following through best practices.
Here's what the course creator has to say about the Instagram Marketing 2021: Complete Guide To Instagram Growth course.
Instagram is a powerful and fun social tool that allows you to market your business to hundreds of new customers everyday! There are over 1 Billion Instagram users, and learning simple strategies to gain targeted followers can significantly increase your businesses revenue.
Instagram is a simple & effective way to connect to new customers:
Create an attractive, powerful and professional Instagram business profile.
Connect with 500+ targeted users every day on Instagram
Build strong trustworthy relationships with your Instagram followers
Use the proven marketing skills and the follower funnel technique to convert followers to paying customers
Keep up with all the new features Instagram are continuously implementing to grow your business and account
OVER 50,000 amazing HAPPY students have taken THIS course
Instagram is a small time investment for a huge customer return!
Once you spend just a few hours learning the powerful proven Instagram marketing techniques, you will see why we are the recommend course. We have easy to follow step by step techniques to grow your followers and market your business.
Your time will pay off by reaching thousands of new customers, and building a strong, trustworthy relationship through Instagram will skyrocket your brand awareness to a level beyond your expectations. You will have the tools to create quality content, grow your Instagram followers and market your business to these hyper-targeted customers.
When making a purchasing decision, people online use your social media presence as a measure of the quality, and trustworthiness of your business. Nothing speaks trust and quality louder than having a thousands of targeted, real, and loving Instagram followers on your profile (of which you can contact at any time!) Your profile will be professional and compelling and you will be using stories, live streaming and all the other new features Instagram releases.
Instagram for Business Contents and Overview
This Instagram course is designed for anyone who want to learn how to use Instagram to grow their followers and business. We are constantly keeping up with all of the new features and changes implemented and you have lifetime access to the course.
In this course, we start with the very basics and you will learn how to create a powerful, professional Instagram profile for your business designed to effectively appeal your target customer. Even for people who have already established an account, it is imperative to know that you have done this in the optimal way for Instagram growth and marketing!
You'll then learn, using the incredible Instagram promotional marketing strategies, how to gain hundreds of followers, comments and likes for your business account every single day. All the time we are here to answer questions.
What sets this apart from other Instagram management & marketing courses is that by the end of this course – you will know all the strategies for you to grow your followers and convert your successful Instagram statistics into sales, customers and loyal fans!
By the end of this course, you'll have valuable skills that will help you effectively build a strong community of Instagram followers, convert them to paying customers, and finally sell them your products and services.
You'll also receive practice activities, live demonstrations, and helpful resources to guide you through the entire process. From setting up your Instagram account, gathering a strong relevant following, to increasing the profit of your business.
Looking forward to seeing you on the inside 😉
– Benji
Entrepreneur Academy
Who this course is for:
This Instagram course is suitable for Businesses and Personal users who are new to Instagram or those who have less than 10,000 Instagram followers.
In this course you will conquer and implement all the powerful and proven marketing strategies available. You will grow your Instagram account through our clear step by step strategies converting your followers to paying customers.
This course is necessary for everyone who want to grow their Instagram followers, become proficient at all the marketing tools available and keep up to date with all of the new Instagram features.