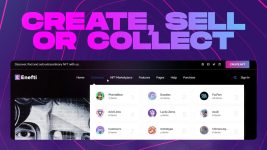 Enefti – NFT Marketplace Theme
Enefti NFT Marketplace Theme is an add-on to the NFT Core system that's available on the Codecanyon marketplace.
The NFT WordPress Template offers a front-end for the core bundle that connects to the Blockchain product.
Minimum Requirements:
WordPress: 5.6 + | PHP 7
Enfeti Core Fully Functional NFT Marketplace Script : Purchase here
Ubuntu/CentOS Server that's powered by v2 CPU and 2 GB of RAM.
Purchase Server here: Vultr | Digital Ocean
Monetization Model:
Create NFTs in Blockchain using our NFT Creator addon: By doing this, the admin of the site will earn % commission from every single sale made on all of the NFTs created on the site by their visitors (same as other marketplaces do).
If your site has a lot of traffic, simply set up Google AdSense and list ads to earn money from Google Ads (no need for other addons).
Use other's affiliate systems to earn commissions (such as crypto.com/binance/opensea.io etc.).
Create partnerships with: Musicians, Celebrities, Personalities from Sport and simply sell stuff on Metaverse.
NFT Features:
Create Real NFT's directly from a user dashboard – WordPress NFT Creator needed
Import NFTs as Products from OpenSea.io (admin and vendors can import NFT's).
NFT Custom Collection Grids/Carousels.
NFT Post Cards made with VueJS.
NFT Product Tabs (All/Sale Type/Fixed Price).
NFT Wishlist.
NFT Creator plugin – Create NFTs directly from WordPress (Coming soon).
Login with MetaMask (A crypto wallet & gateway to blockchain apps).
Fetch NFT details in real time.
List NFT price in ETH along with the price in ETH .
Custom products grids.
Compatible with: WCFM Marketplace (Free & Ultimate)
NFT Page features

NFT Title
NFT Small Description
NFT Description
NFT Prices (WooCommerce Price + ETH)
NFT External Links (E.g: OpenSea.io)
NFT Collection (Owner)
NFT SKU (ID)
NFT Category, Tags
NFT Presale Status
NFT Number of Sales
NFT Reviews, Sell Orders & Traits tabs
Related NFTs
and more…
Key Features Of Enefti NFT WordPress Theme
AJAX Shop Filters + Search by category + AJAX Shop Pagination
AJAX Header NFT Search
Shop Grid/List view
Modern Category with banners and products blocks and shortcodes.
Woo Commerce Ready
ModelTheme Framework plugin
ModelTheme Addons plugin
Testimonials
Brands we work with
Contact forms (Compatible with: Contact form 7)
Custom 404 page template
Multiple header variants
One-click importer
600+ Google Fonts
Font Icons instead of images
Well documented – View Online Docs
Various Custom Widgets and much more
Multiple Colors & Skins Throughout
Eye-catching CSS Animations
Permanent updates
Excellent Typography
Optimized for high speed
Fast and easy to use
Full use list: cryptocurrency websites, crypto nft platforms, NFT, NFT Marketplace, NFT Woo commerce, NFT auction, Opensea, Metamask, ICO, Non fungible token, iBid, Enefti, blockchain, crypto, bitcoin
Roadmap Features (Coming Soon):
Possibility to make transactions inside the Enefti platform.
See Metamask wallet ballance
…and more…