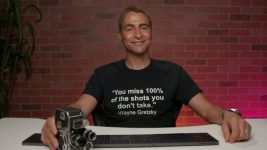 An Entire MBA in 1 Course:Award Winning Business School Prof
What you'll learn
Over 350,000 students in 195 countries!

Free $99 384 page book version of this course!

Launch a company from scratch.

Get many customers by using the best networking tool!

Create financial models from scratch (the Professor makes it so easy to understand).

Analyze company financials with ease!

Understand how investment banking firms work and what they can do to help your business.

Understand how management consulting firms work and when you need to hire them.

Understand how macro economics and micro economics works.

Understand what is venture capital and how to partner with the top venture capital firms to take your company to the next level.

Present to investors and customers like a boss : )

Communicate the right way in business so that you don't waste time.

Network and get a meeting with anyone (ideal tips on how to get a job or how to reinvent yourself or how to find customers).

Analyze entire markets and companies from a qualitative and quantitative perspective.

Understand how taxes work (don't worry this section is not boring)!

Protect your family and assets in case your business gets sued.

Understand what business career makes most sense for you!

Restructure your company and the benefits of declaring bankruptcy protection if needed.

Partner with equity and debt providers.

After this course you will have the tools / skills needed to launch a company, grow it and then take it public!

Value companies the easy way.

Set up the correct and most beneficial legal entity for your company.

Identify what makes an entrepreneur extremely successful.

Set unbelievable goals for yourself (there are no limits to what you can achieve….)!
Requirements
Suitable for anyone who wants to startup and needs a quick business knowledge.
Description
** #1 MOST PURCHASED BUSINESS COURSE ON UDEMY! ** OVER 350,000 STUDENTS IN 195 COUNTRIES **
** ACCORDING TO BUSINESS INSIDER: "Getting your MBA has never been easier. Haroun is one of the highest rated professors on Udemy, so you can expect to be in good hands through the course of your education." **
** SPECIAL $99 BONUS: FREE 384 PAGE MBA BOOK INCLUDED ($99 value). In order to further improve the student experience, there is a free download at the end of every section of this course (contains every slide & entire easy to read comprehensive scripts of all 49 lectures & >100 helpful internet links + more) keeping the course up to date, even easier to understand & even more fun and engaging! **
Are you ready to take your career to the next level? In this course, you will learn everything you need to know about business….from starting a company to taking it public. This course covers all of the important topics you will learn from getting an MBA from a top school + real life practical business concepts that will help make you more successful!
This course is taught by an award winning MBA professor with significant real world experience working at Goldman Sachs as well as in the venture capital, hedge fund and consulting industries (he has founded several companies and sits on several boards). Many business concepts are simply common sense. This course will focus on business concepts that you need to know that might not be common sense. This course makes the general business, accounting and finance process very easy to understand! The professor of this course is also the author of "101 Crucial Lessons They Don't Teach You in Business School," which Forbes magazine recently called "1 of 6 books that all entrepreneurs need to read right now."
The contents of this course are all based on my work experience at several firms, including Goldman Sachs, the consulting industry at Accenture, a few companies I have started, the hedge fund industry where I worked at Citadel and also in the venture capital sector (the firm I founded had a venture capital investment in Facebook).I included helpful practical business concepts I learned while I did an MBA at Columbia University and a Bachelor of Commerce degree at McGill University. Think of this course as a "greatest hits" business summaries from my MBA, undergraduate business degree, work experience in consulting, equities, hedge funds, venture capital and starting my own companies.
I have minimized "boring theoretical concepts" in this course in order to keep it as close to reality as possible. The concepts of this course have been taught by me in many classes at several universities, where the student feedback has been universally and incredibly positive (please see my LinkedIn profile for student reviews / feedback on my teaching style/effectiveness – thank you. Also please see reviews of my books in Amazon and here in Udemy on my teaching – particularly in my Udemy course on "101 Crucial Lessons They Don't Teach You in Business School").
An Entire MBA In 1 Course ®  is a registered trademark of Haroun Education Ventures, Inc. The contents of the course are copyright © 2017 Haroun Education Ventures, Inc.