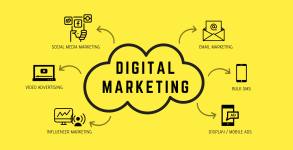 Start a Successful Social Media Marketing Agency from Home
What you'll learn
Create your own social media marketing agency from home

Offer a wide range of social media and digital marketing services
Up-sell and cross-sell your clients on other related and value-added services
Assemble a team of skilled people to help grow and scale your business
Have the products and tools necessary to find and close clients
Create a website that advertises your services and gets leads
Requirements
Facebook account is required
No social media marketing skills necessary
Description
Social media is growing so fast that it's become an ESSENTIAL part of any business marketing plan. This creates a HUGE opportunity for anyone that wants to earn great income from home – providing simple but valuable services to an unlimited range of clients.
Consider Facebook alone:
=> Over 3 million companies actively advertise on FB – a 50% increase between 2015 and 2016
=> 75% of brands promote their FB posts
=> 50 MILLION small businesses have FB pages … but only 6% of FB pages are promoted with
paid ads
Your Own Profitable Business, Just For Hanging Out On Social Media?
Being connected to social media can pay off in a very big way. With simply a Facebook account and this training, you too can have a high-paying social marketing agency you can run from home. With NO prior skills or experience, because everything's covered in a step-by-step method from A-Z.
Why Listen To Me?
It's important to know that your instructor "walks the talk". I have worked with dozens of international clients, including Hennessy, Corona Extra, Hyundai, Moet & Chandon, World Vision, Krispy Kreme and Vespa. In addition I consult numerous local businesses and independent marketers.
Here's what the CEO from a regional Vespa office had to say about Brian:
"Creative and dedicated to providing quality and engaging content that helped us reach our target customers online."
But what matters is YOUR ability to absorb and benefit from these methods.
Feedback from current students:
"Brian Gray, Thank you so much for all the work you do and value you provide. Thanks to your Udemy course I was able to set-up my own digital marketing agency. I wanted to share here my first success and share with this FB group…I want to make clear that my business is not even fully set-up yet." – Adrian Martinez
"This course is worth more than the money. Great content and lots of resources are included. I'm glad I enrolled" – Daniel Falonipe
Great comprehensive training. – Natik

Excellent, the best, you won't find a better instructor anywhere. – Mandy C

so much info – worth the money, would pay up to £1000 for this course!!! – Lewis Bradley
Inside 'How To Start A Successful Social Media Marketing Agency' You'll Discover:
=> EXACTLY how to set up your business: create a professional website from scratch (even if
you have zero experience); branding and effective lead generation strategies
=> How to assemble a skilled team, unique services to offer & how to full them, creating social
proof
=> Getting clients AND keeping them, then scaling up with up-sell and cross-sell services
What Makes This Course Unique?
Each method is tried, tested and proven. Social media marketing is truly an evergreen opportunity and the client pool is practically unlimited: EVERYONE needs help in this area.
You'll get all the documents and templates needed to set up and run your successful business.
Learn winning strategies for attracting premium clients.
Plus some "out of the box" services to offer that bring maximum value and have little competition.
Presented in an easy-to-follow, "do this then that" approach that you can follow at your own pace.
Lifetime updates are included – I add new lectures to the course regularly. Also if FB makes any changes the would effect your business, I cover that as well.
Complete support – any questions you have will be answered promptly and professionally. I also have Live Q&A sessions where I answer all questions live.
30 day money back guarantee
Social media is exploding. NOW is the best time to leverage it for your personal gain.
Looking forward to seeing you on the inside and helping you build YOUR successful social media marketing agency.
Brian Gray
PS. I devote a lot of time to helping the students in this course, so as the number of students increase, the cost of the course will also increase.
Who this course is for:
For anyone needing a solid business they can start and manage from home
For anyone needing strategies to improve their social media marketing services
For anyone needing more digital marketing services to offer clients