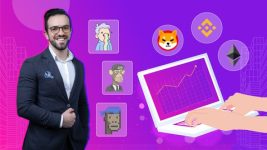 Create NFTs, Tokens and DAOs – Smart Contracts Masterclass
Create NFT collections with pre-reveal/reveal, deploy token/cryptocurrency & DAOs, with NO coding experience needed!
NFTs, tokens/cryptocurrencies and DAOs will dominate the technology landscape in 2022 and the coming years. Have you ever thought you could actually be a creator of all these amazing projects all by yourself?!
This masterclass will offer you all the tools, knowledge and steps in order to:
Create individual NFTs as well as NFT collections (for example, a 10 000 NFT collection), how to make your NFTs "automatically" show up on OpenSea;
Create tokens / cryptocurrencies (ERC20 tokens);
Understand what a DAO is and how to create your own DAO
With NO coding experience needed!
Smart Contracts are at the core of creating thousands of important projects.
In this masterclass, you will learn all the essentials about Smart Contracts, have the necessary hands-on tutorials that will allow you to create and deploy Smart Contracts without previous coding knowledge, all in a fun and relaxed manner. It's a course designed for Complete Beginners and Intermediate market participants.
The Author of this course has other 3 best selling courses already published. – "The Complete NFT Course", "NFT Investing Masterclass", & the first-ever " Metaverse Masterclass ", to bring you all you need to know about the potential next big technologies! You can get started on these courses as they form the foundation for everything you'll learn from now on.
This 4-hours Masterclass covers:
What is a Smart Contract?
What are the ERC20, ERC721 and ERC1155 token standards, how do they work, and their main use cases?
What blockchains are compatible with Smart Contracts?
How and where are these Smart Contracts used?
Deploy a simple Smart Contract
Deploy ERC20 Smart Contracts
Deploy NFT Smart Contracts – ERC721
Creating an NFT collection with generative art and IPFS
Traits, properties and metadata
Connecting the Smart Contract to Opensea
Pre-reveal and reveal on Opensea
What is a DAO – Decentralized Autonomous Organization
Types of DAOs, Legal Recognition and Security
Learning goals:
With this masterclass, you will have a good understanding of what Smart Contracts are, how to create them, important tools to facilitate the deployment of smart contracts, the differences between ERC20, ERC721 and ERC1155, how to develop and deploy them to the Ethereum blockchain, how to create an NFT collection, how to generate NFTs, how to use IPFS and Pinata, how to correctly generate the NFT metadata, what is and how to create a DAO, and much more
Go grab a cup of coffee and join me in this adventure that will help you power up your NFT/Crypto journey!
Who this course is for:
– Blockchain enthusiasts
– Project creators and developers
– Crypto and NFT Project Managers
– Anyone who wants to build smart contracts
– Anyone who wants to create a token, NFTs or a DAO
– Entrepreneurs looking to leverage crypto and NFTs
– Anyone looking to create an NFT project