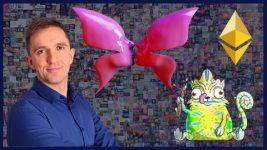 NFT Crypto Master Class: Buy, Sell and Create NFTs
Create NFT Collection of 10000 NFTs – Crypto NFT – Non-Fungible Tokens – Master Opensea – MetaVerse – NFT Token
What you'll learn
What is NFT in the Crypto World
How to Buy, Sell or Create NFT
PROs and CONs when buying NFTs
Which are the Trusty NFT platforms
Create 10000 NFTs and Upload them Automatically (for Free)
How to find NFT Art early before it's on Opensea market place
What are the Gas Fees with the Non-Fungible Tokens
How to create NFT without Gas Fee
Do you want to make money out of the NFT Crypto market? This is the right Non-Fungible Tokens course for you!
Welcome to the Complete NFT Crypto course! The only course you need to learn how to Create NFT. Buy NFT and Sell NFTs.
Even if you have zero experience with the Crypto NFT market, this NFT course will take you from beginner to mastery. Here's why:
the course is taught by the lead instructor from Trading Academy, who has over 10 years of experience in the Crypto market
you will learn how to get started from scratch on the NFT market up until you upload your first 10000 NFT collection
yes, you will see how to design, create and upload 10000 NFTs on Opensea (digital NFT art)
actual examples of using a wallet, transferring crypto, creating NFT, and purchasing NFTs (Non-Fungible Tokens)
the curriculum follows a logical sequence, so it will be easy for you to follow along with the whole NFT crypto course
you will save tons of time searching the internet for the best practices of how to participate in the NFT market
you will know how to create NFT and sell it on Opensea for profits
more will get familiar with the platforms Cryptokitties, Decentraland, Rarible, F1 Delta Time
This NFT Course will give you a clear understanding of this phenomenal new niche!
Hello everyone, my name is Petko Aleksandrov, a professional trader, and in this NFT Crypto course, I will share all of my experience with NFT Art with you.
With all of its PROs and CONs, so you can get a realistic expectation of it. And don't get me wrong. The NFT digital art is what we can use to make a lot of money, but first, you need to know how it works and what you need to be careful of.
I will give you a realistic idea about the exciting new Crypto NFT world in this course, and I will be honest!
What you will learn in the Basic NFT part of the Course:
What precisely the NFTs are how they work
Warnings for the Crypto NFT market that everyone should know about
How to buy NFTs with a debit/credit card without owning crypto
Funding a MetaMask wallet which is almost a must in this field
Which are the most popular and trustworthy NFT platforms with all of their PROs and CONs
Different techniques on how to create NFT, buy or sell one
What you will learn in the Advanced NFT part of the Course:
What are the Gas Fees: One-time Gas Fees, Recurring Gas Fees, Gas-Free Actions
How to check the Ethereum Gas Fee at any moment and buy Non-Fungible Tokens cheaper
Creating NFT without Gas Fees and selling them on the Polygon blockchain
How to find NFT Projects early and buy NFT before it's on the marketplace like Opensea
How to Keep an eye on the upcoming NFT projects
More, you will learn about NFT Generative Art:
What is the whole idea behind Generative NFT art like Crypto Punks or Bored Ape Yacht Club NFTs
Design the layers easily for the NFTs with any programs like Canva, Photoshop, MyPaint, or any software
Generate NFTs with ready-to-use code so (no programming needed)
Upload 10000 NFTs on Opensea automatically with a program/app  (no programming needed)
Tips on how to save the most potential NFTs for yourself
I won't tell you that you have to buy NFTs and join immediately, and I promise you that you can make quick profits.
This is an educational course that aims to teach you all the aspects of NFTs.
I will share all of my experience on how to look for valuable NFTs. I will give you tips on how to choose the artist if you want to buy NFTs, and what you need to keep in mind if you want to sell NFTs on your own or if you want to become an NFT artist.
I will take you step-by-step through engaging videos, and you will see the beauty of the NFT digital art.
By the end of this NFT Crypto course, you will feel comfortable in the NFT field, and you will be working on the platforms with ease.
I am confident that you will like the NFT course and offer a 30-day Money Back Guarantee. So if you decide that it was not the right one for you, you can always take advantage of that option.
I hope you enjoy the course and do not hesitate to ask any questions along the way.
Petko A
…………………………………………
If you still doubt that this is the right course for you, have a look at what our students say about it:
Steve Metcalfe: Petko has really covered a lot of topics in this course, and I was especially impressed with his knowledge on what makes an NFT successful, giving advice on what makes an NFT sell and tips and suggestions as you navigate your way into this space.
Who this course is for:
Everyone who wants to learn more about NFTs
Investors who have hard times choosing the right NFT art
Crypto Traders who want to profit from NFTs (flipping NFTs)
NFT Artists who want to market their pieces of digital art