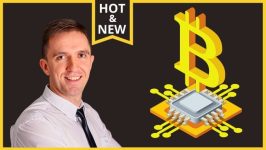 Staking Crypto: Earn Passive Income Daily
What is Staking Crypto ?
Cryptocurrency Staking is the process of locking in your cryptocurrencies in a supported cryptocurrency wallet for a period of time. The blockchain protocol in-turn gives the user whose cryptocurrencies are staked, a regular percentage of return for the tenure of the lock-in. Staking Crypto is a feature of Blockchain's that rely on Proof-Of-Stake mechanism. Using this many cryptocurrency holders are earning recurring passive revenue each day/ each week. You are basically lending out your cryptocurrencies without selling them. But make sure you are staking these cryptocurrencies ONLY on a reputed platform that is well known.
Why is this Cryptocurrency staking course important?
Cryptocurrency staking is still in it's early stages and instead of the cryptocurrencies sitting idle in your wallet, staking crypto will let you earn a regular stream of passive income without selling the cryptocurrency. This course explains each of these concepts in great detail before telling you how to get started. The author Petko Zhivkov Aleksandrov also dives indepth teaching you how to diversify your portfolio, manage your investments among other topics.
What will you learn in this Staking Crypto : Earn passive income course?
What is crypto staking and how you can earn passive income from it
How to begin staking crypto from the beginning with no prior experience
Benefits and drawbacks when staking cryptocurrencies
The safest wallets in which to store your crypto safely
What are the Requirements for this Staking Crypto course?
Android/iOS phone that supports the wallets
Curiosity and the interest to learn
Initial Investment can start with just $50 or more
A lot of patience 🙂
What does the Course author have to say about this Staking Crypto course?
Did you know that you can earn passive income while holding your cryptocurrencies in your wallet?
<<<The first Staking Crypto course on Udemy, that will teach you how to get rewarded for supporting the blockchain by staking crypto>>>
And don't worry, it isn't difficult. It is very easy to stake cryptocurrency because most popular exchanges already offer that services.
This crypto staking course will be a DEMONSTRATION of real staking. No boring slide-show presentations with theory. I will show you straight from my phone how I stake cryptocurrencies and how you can do it easily.
It is really a few-step setup. So why did I decide to create a course about crypto staking?
Most people that start staking from their mobile apps do not understand the process and they miss great opportunities to get a bigger annual return from staking. In addition, some beginners even set inappropriate time-periods and lock their cryptos for a longer time than they intended.
What will you learn in this Cryptocurrency staking course?
What is staking and is it the right investment for you
Where you can store your crypto safely
Which are the wallets that I use for storing and staking crypto
What you need to know before you start staking
How to get started step-by-step with crypto staking
Most people do not know about staking yet. So the purpose of this course is to teach you what the staking is, so you can decide if you want to get into it or not.
And even though it is very popular in the crypto communities, many people think that staking is something complicated, such as mining.
Well, it is not. Staking is super easy, you do not need to pay for electricity, and you do not need to have any mining software or pool membership, or competitive mining computers. And you do not need any knowledge about blockchain or building computers.
Crypto staking is suitable for complete beginners and you can do it right from your phone.
Contents and Overview
In this course, I will start with a brand-new account where I have not done any crypto staking. I will choose one of the crypto exchanges that I use, and I will show you the whole process step-by-step. Simply put, I will demonstrate what I would do if I were you – a beginner wondering where to start.
You will learn about the different time periods and annual returns that you can earn by staking crypto. You will be surprised how much more you can earn from staking crypto compared to depositing your funds in the bank or using a Stock dividend strategy.
By the end, of this short and sweet course, you will feel comfortable with crypto staking and you will be ready to do it whenever you want to.
Keep in mind that staking crypto requires actual cryptos in your wallet, but everyone can start practicing with a small amount. Also, in the course, I will explain what the difference is if you are staking volatile cryptocurrencies such as Bitcoin and Ethereum, and how different it is from staking the USD Coin, for example.
Get premium support and feedback from a professional trader
It's my priority to answer all questions from my students. I know how hard it is to start alone, and I do my best to answer all questions quickly.
Udemy offers a 30-day money-back guarantee, so if you are not happy with the course for any reason, you can request a refund – no questions asked.
Frequently Asked Questions
I'm new to trading cryptocurrencies and staking, I take time to learn, will this staking crypto course suit me?
No problem, most of the learners are first timers. Since the course has on-demand videos you can pause whenever you want and resume at a later date. Whenever you have questions related to the course, there's a dedicated forum inside each course where you can asks questions to the course author. The ball is in your court 🙂
How much investment do I need to start investing in staking crypto?
You can start with a $100 and keep compounding it as you go. When you see the returns that you stake, you'll automatically start allocating the required funds needed. Petko shows you step by step how to manage, when to stake crypto and diversify so you can minimize any untoward risk.
Disclaimer: Investing in cryptocurrencies and staking them involves a certain amount of risk, all the strategies taught are the author Petko's own. Launchtoast, it's partners, affiliates do not endorse it and we cannot be held responsible for loss of anykind/nature. Learn thoroughly and invest at your own risk.